So, the hexipuffles have been breeding...
Remember that little scattering I had before?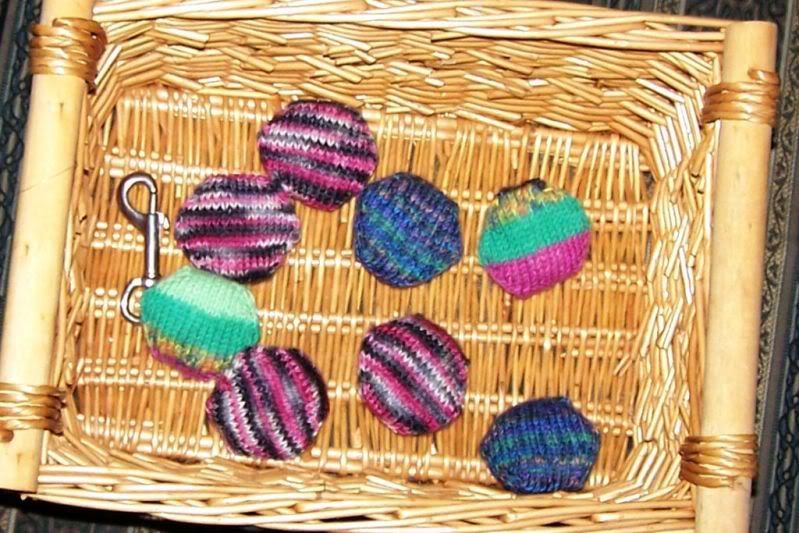 Well, they grew to 38...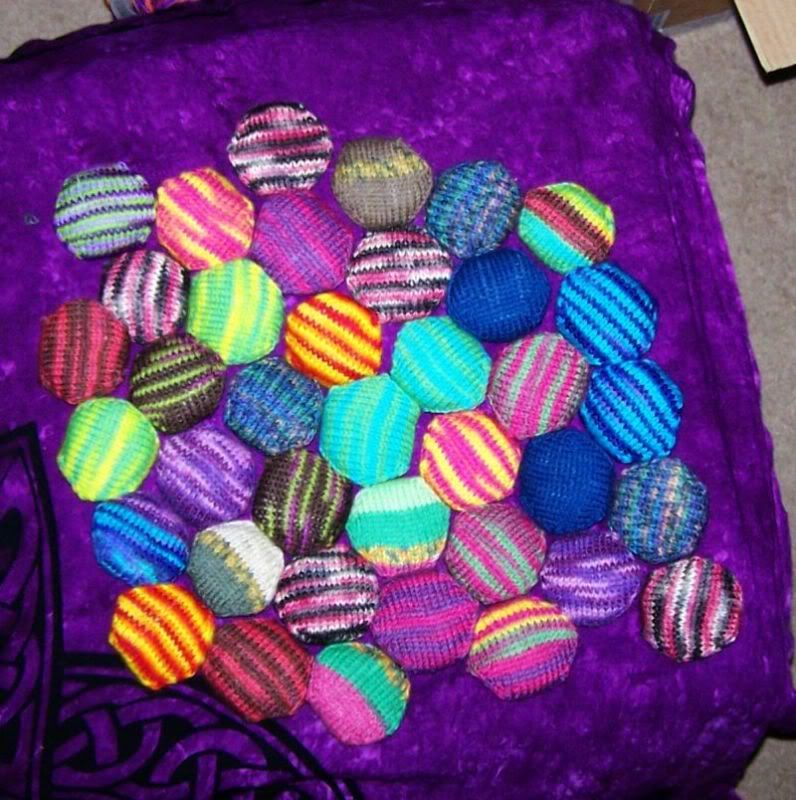 And those grew on to 52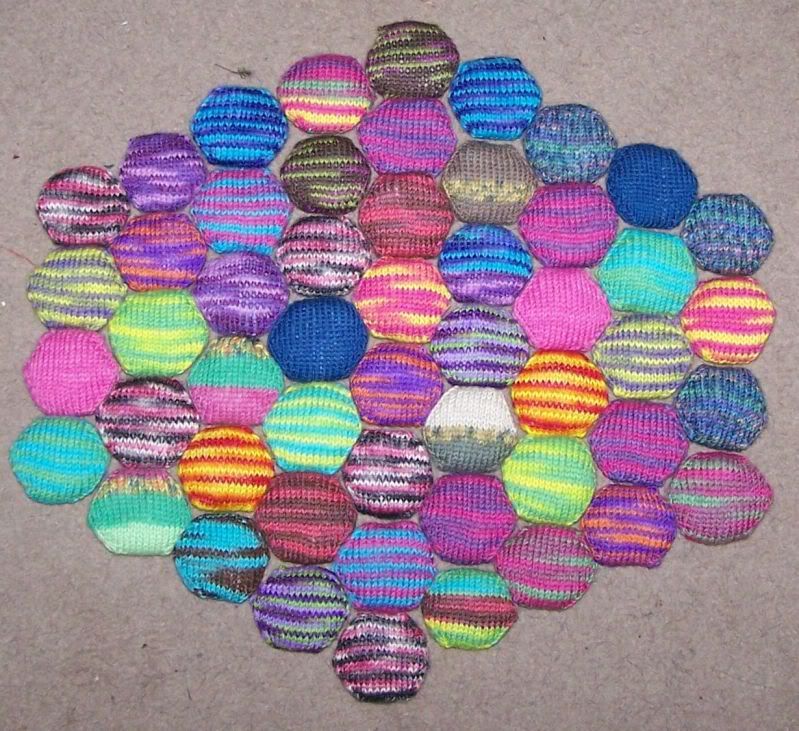 More have since magically appeared in the basket, but I'm afraid they're on hibernation until after Christmas knits are done.
I've started more "safety socks", this time in home-dyed purple and mass dyed yellow: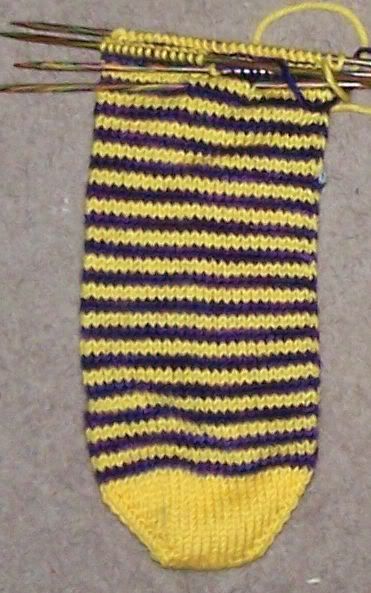 One sock is done, the other just needs the cuff and heel finishing.
Then, my travelling project will be Dad's new gloves! My Mum, alas, just isn't knit-worthy, she's just not fussed when she can go buy such things. Dad, on the other hand, absolutely loves my hand knits! He wears his lovely thick hat and gloves whenever he's out in the cold and sometimes even the cowl, although it seems I made the hat too good, he's rarely cold enough for the cowl ;) So after 3 years of good service his gloves, that I knit flat and seamed, are starting to wear out. He asked for a new pair and he shall receive :) Mum is getting a box of Turkish Delight, she'll be happy with those.
Winter is slowly creeping up on us and I admit, I "borrowed" the jumper I knit for hubs last year. Well, he wasn't too pleased so I said I think I could manage one for me, if I could afford the yarn. Yep, I managed to go 11 months without buying yarn then bought this lot: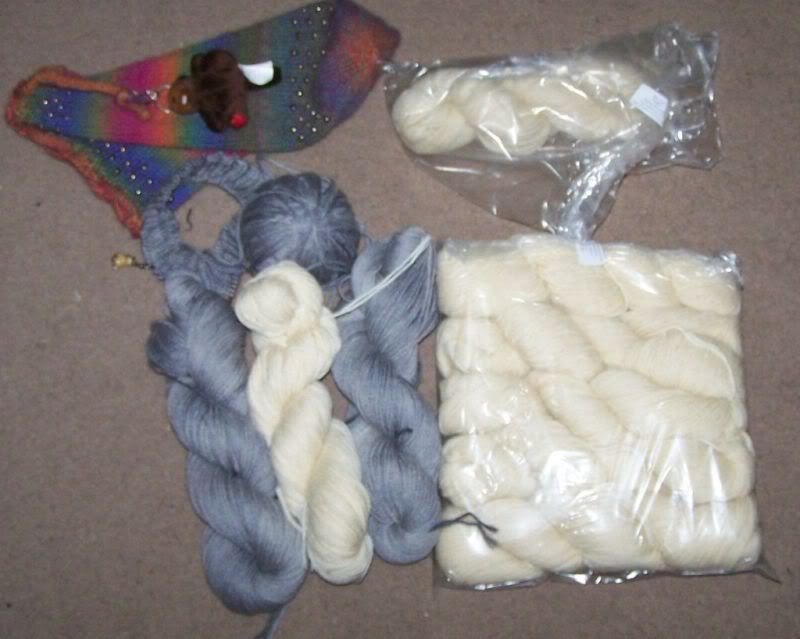 It's from West Yorkshire Spinners and was originally 10x100g skeins of aran weight BFL (heaven!) but I have plans to do a pattern around my torso so I don't go insane on the endless rounds of plain blah. So I got a pot of Jacquard Acid dye in Silver-grey. Dyed up three skeins, waited impatiently for it to dry and got those three greys. I was a bit disappointed it wasn't solid (not enough dye to go round) but then I decided I like that, sheep aren't solid grey so why should the ones going on my jumper be? The problem now is resisting that to get other things done!
I also found a lace pattern I love and thought would work wonderfully in my black DK silk...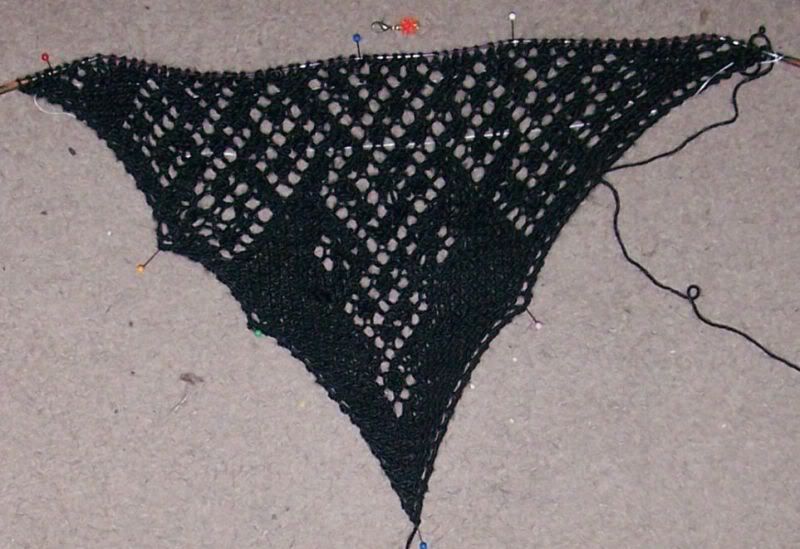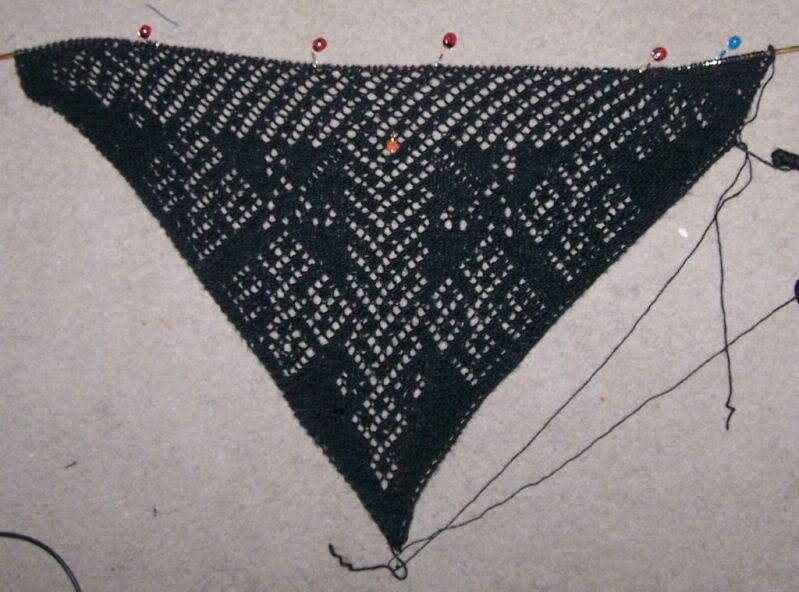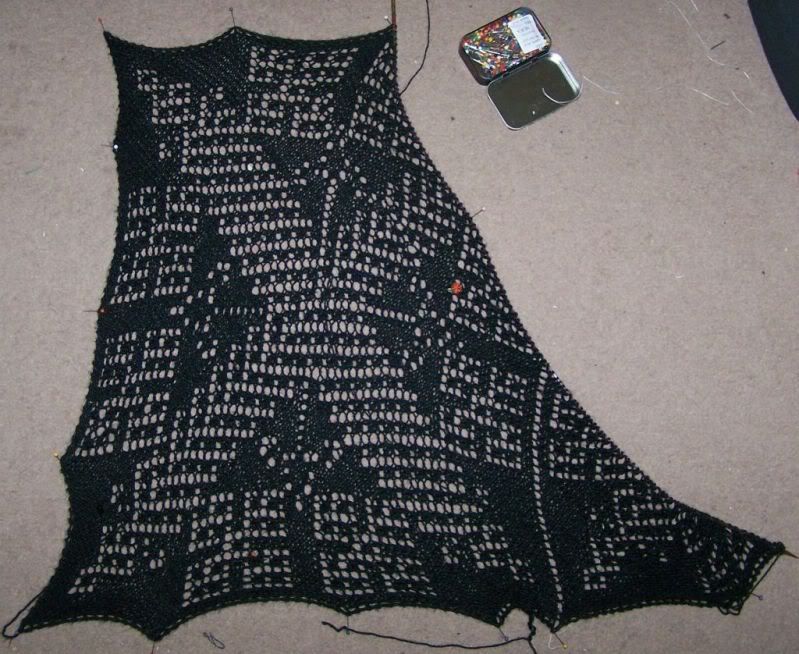 It's called
Addis Abeba
(Ravelry link) and is knit on the bias, so diagonally. I admit to being a bit worried I would get completely lost but WIPInsanity has written it wonderfully and it's kind of like a sock, just do exactly what it says and it works! So I get a few rows of that done every few days. After the first half square it's 2 charts at once and my brain can only stay focused so long before it wanders. Still, the pure silk yarn on my KnitPro wooden circular is an experience of pleasure!
That's about it really. I won't confound you with my health issues at the moment, mainly because I haven't a sodding clue what is going on.
Have a lovely November folks, I hope to update again before Christmas ;)